The last few weeks of the virtual shut down all over the globe because of CCP virus has down more than simply keep most people confined to their homes. It has also brought the largest economic power in the world to a standstill.
In America, President Trump is voicing a strong desire for the economy to begin moving once again and the sooner the better. He is facing severe criticism for such sentiments from various outlets in the Leftmedia and all its incarnations on the internet.
These attacks are fueled by the fears of the CCP virus spreading and causing widespread death in America. However, as is increasingly becoming clear, the Left seems invested in ensuring that the level of panic over this disease is raised as high as possible and that America is kept under lockdown and out of business for many months to come.
Which option is the right one for our nation and for the world? The President has given the correct and truly only rational path to tread when he said,
We cannot let the cure be worse than the problem.
America Must Get Back to Business
During our self-shutdown in America, the amount of economic damage done by the inactivity is monumental, and without quick and decisive action, there may not be an economy left to rescue. It is imperative that America gets back to business as soon as possible.
The reasons for this are apparent. First of all, the workforce has already been devastated by the shutdown of businesses across the country. The following is an economic activity chart concerning the restaurant industry posted on Twitter by Andy Pudzer.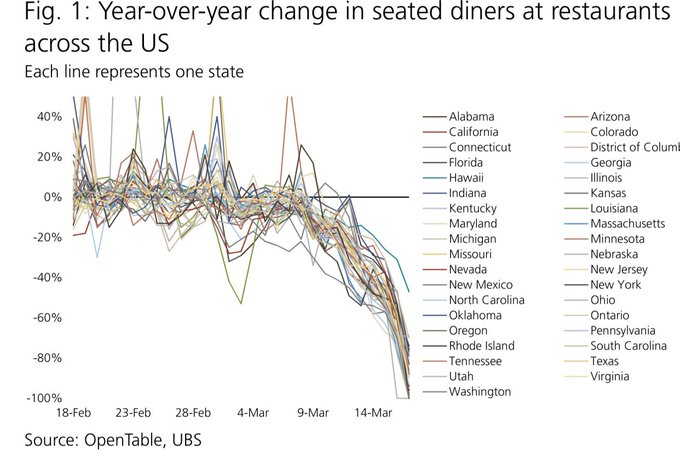 This was put together about a week ago and clearly shows that the bottom has fallen out of the restaurant business in America. This means that a major industry employing millions of people has just ceased operations altogether.
Take note that this represents but one segment of the thousands upon thousands of businesses large and small across the nation which have entirely shut down in obedience to either state order or strong suggestions by government authorities. There is no guarantee that these jobs will still exist if a nationwide "restart" is delayed even two or three weeks.
Another factor amid all of this is the unprecedented act of literally shuttering the doors of American businesses while the economy was booming. Though it is not 100% of businesses, consider these that are not allowed to operate in California today.
Restaurants, auto dealers, real estate, most manufacturing, warehousing, bars, bowling alleys, construction, airlines, shipping, and many more are shut down and all have bills to pay as a business. Many small business owners still have rent or mortgage payments on the buildings and equipment they use for their operation that could be delayed but will still require payment or the business goes under.
The number of people this is affecting is reflected in the fact that last week 3.3 million Americans filed for unemployment benefits. That smashed the previous record of 695,000 jobless claims for one week.
That pace would mean that another six weeks, there would be more than 12 million unemployed in the nation. Those who are panicking over wild predictions of death and doom are demanding at least a month longer and that would result in massive unemployment numbers approaching a 30% unemployment rate which is 5% higher than the Great Depression at its worst point.
The longer this continues, the greater the chance of an economic collapse in America, one which will rival, if not surpass the Great Depression era of nearly a century ago. The only solution is to end this forced lockdown quickly and get the economy going again, period. 
What About the Risk?
The natural question becomes what is to be done about the risk of contracting the CCP virus when the nation is restarted economically? Here is where the Leftist fearmongers incite a panic both intentionally and out of ignorance.
The argument from the Left is that the risk of contracting and dying from the CCP virus is too great to allow any reopening of the country for several months. They say in many arenas that to speak of restarting the American economy in weeks instead of months is favoring 'profits over people.'
These people on the Left seem to believe that there must be zero risks from the CCP virus before we contemplate returning to some semblance of normality in life and commerce and to suggest otherwise is tantamount to saying you want people to die. That kind of attitude sparks some to raise the level of fear with commentary like this from Chris Hayes a few days ago on MSNBC,
It's not a question of if the economic shutdown is absolutely brutal for Americans…, of course it is. It's just that those on the right and in the business world talking to Donald Trump are just misreading what the choices are right now. There is no option. If you just let everyone go back out and go back to normal if a pandemic rages across the country and infects 50% of the population and kills a percentage point at the low end of those infected and also melts down all the hospitals. What kind of economy do you think you're going to have under those conditions?
These remarks are intentionally misleading half-truths pumped up with hyperbole to elevate the panic level as well as take another Leftmedia shot at President Trump. The figure of 50% infections in the country is, as Buck Sexton points out on his March, 24th podcast, a generous estimate over 3 flu seasons of the total who could be infected if we took no measures at all against the virus! 
Secondly, no one is suggesting, not even President Trump, that the nation should simply disregard this virus and go back to 'normal' as if nothing at all had happened. Proper precautions should be taken by individuals and businesses to reduce the risk of infection, however, as a society, we are going to have to accept a certain level of risk or expand the suffering to everyone else.
This is a true balancing act between the risk of infection and a probable increase in the number of people who will die and the risk of tens of millions of Americans becoming destitute and requiring government assistance for the foreseeable future. The Left, however, sees this as an opportunity to put into place a Socialist government on which all Americans are dependant.
One of the proofs of their intentions was the numerous delays in voting upon a relief package for Americans as the lockdown continues. After passing a smaller first relief bill on March 18th, the Speaker of the U.S. House of Representatives, Nancy Pelosi [D. CA], refused a vote on further proposals and instead introduced another bill that provides funding for a plethora of Socialist policies.
"The country is burning and House Democrats would rather delay passage of direct relief to working families and small business so they can manipulate the way we conduct elections, bail out the postal service, impose greenhouse gas mandates on the airlines, and ensure diversity on corporate boards," Rachel Bovard, Senior Director of Policy at the Conservative Partnership Institute told the Daily Caller. The bill also reportedly gives unprecedented collective bargaining powers for unions, increases fuel emissions standards for airlines and expands wind and solar tax credits.
That version of the bill mercifully failed, however, the bill which finally did pass both the House and Senate, and was signed into law still includes a lot of spending unrelated to the CCP virus crisis. It is certain that this extra spending will come back to haunt us in the future but for now, the level of fear and panic seems to require some unusual behavior.
However, it is very questionable that the current level of fear is justified. After wild predictions of millions of deaths in the early weeks of the CCP virus, we are beginning to get a clearer picture of reality, as this video by Dr. Birx, a member of the President's task force, demonstrates.
A quick comparison to a normal flu season can show how shutting down the economy for more than a very brief period is an extreme over-reaction. Currently, there are 120,000 cases of CCP virus in the U.S. and almost 2,000 deaths as a result.
Here are the CDC figures for the last flu season of 2018-2019 in America.
CDC estimates that the burden of illness during the 2018–2019 season included an estimated 35.5 million people getting sick with influenza, 16.5 million people going to a health care provider for their illness, 490,600 hospitalizations, and 34,200 deaths from influenza (Table 1). The number of influenza-associated illnesses that occurred last season was similar to the estimated number of influenza-associated illnesses during the 2012–2013 influenza season when an estimated 34 million people had symptomatic influenza illness6.  …34,200 deaths in the United States alone. And yet we didn't shut down one single thing.
Not only that, but Americans weren't even practicing "social distancing" or panic-buying during that flu season. We all went about our business as we normally do any other time.
The biggest difference with the CCP virus is that we are dealing with a new factor whose parameters are poorly understood. We often fear what we don't understand and this causes extreme reactions that cause far more harm than good.
Yes, it is and will be difficult to endure this battle with a horrible disease, and there will be an increased risk of infection and death with the reopening of America. But the risk of waiting is far greater than anything this virus will inflict on the public.
Let us around the nation and the globe instead renew our trust and hope in the LORD for wise guidance, hope and the courage to risk living in His light today and every day. For there is nothing that can overcome His power and love.
But this I call to mind, and therefore I have hope: The steadfast love of the LORD never ceases; his mercies never come to an end; they are new every morning; great is your faithfulness. Lamentations 3:21-23 [ESV]
D.T. Osborn
Sources: The Holy Bible, English Standard Version, Crossway Bibles, 2001
Featured and Top Image courtesy of Mike Mozart's Flickr page – Creative Commons License
Inset Image 1 courtesy of Dan Keck's Flickr page – Creative Commons License
Inset Image 2 courtesy of yuanstone's Flickr page – Creative Commons License
Inset Image 3 courtesy of velk0's Flickr page – Creative Commons License
All other sources linked or cited in the text